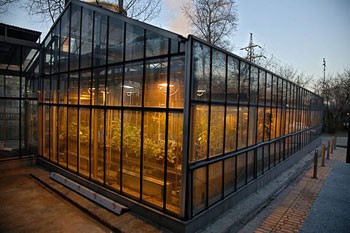 The greenhouse laboratory is a unique complex designed for a wide range of investigations in the field of genetic engineering of plants, genetics and plant breeding, biosafety, as well as for the development of technologies for genetically modified (biotechnological) plants with desired properties that can be used in crop production, medicine, veterinary medicine, food industry. The complex has no analogues in Russia.
Specifications of the greenhouse laboratory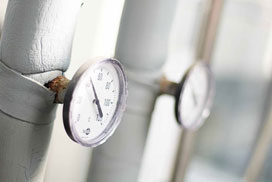 The greenhouse laboratory is a glass structure with a gable roof located in the open area of 144 sq.m. The greenhouse consists of a corridor and five isolated cabins for vegetation with glass partitions. Each cabin has automatically controlled temperature conditions (from + 10 ° C to + 35 ° C), day and night mode settings, watering and fertilization of plants according to pre-specified timing and quantitative parameters.
The greenhouse laboratory is equipped with an outdoor weather station that continuously monitors and records the air temperature, wind speed (m/sec), illumination, atmospheric precipitations (snow and rain).
Advantages and uniqueness of the greenhouse laboratory
The main advantage of the greenhouse laboratory is the complete automation of the adjustment of operating parameters for growing plants. They are controlled by the EACI Klima Pro-Sl computer equipped with a system of internal detectors and controllers for temperature, illumination and outdoor weather station. In each cabin, it is possible to establish two temperature regimes of any length per day.
Due to large capabilities, the experimental setup is ideal equipment for research in genetics, plant breeding, physiology and genetic engineering of plants. Investigations of the inheritance and expression of transferred genes in new generations of transgenic plants, the assessment of their drought and salt tolerance, resistance to herbicides, viruses, etc. are carried out.
These investigations are performed in a broad range of plants, both model and crop species. Under artificial climate conditions, supportive breeding and selection of new parent components for the engineering of transgenic and non-transgenic sugar beet and cabbage hybrids based on cytoplasmic male sterility. The biodiversity and genetic structure of populations of wild soybean (Glycine soja) and semi-wild soybean (Glycine gracilis) are studied.